Triple Goddess Stationary Set
Hand written letters are a powerful way to communicate your heartfelt thoughts and feelings; and letters can also be used in magical rituals for sending desires and intentions out into the universe. This attractively packaged stationery set includes five pieces of premium writing paper, five matching envelopes, sealing wax, and a Triple Goddess seal.
Use this lovely stationery and eye-catching wax seal to imbue your spells with intention or to make your next letter more elegant and special.
$22 ea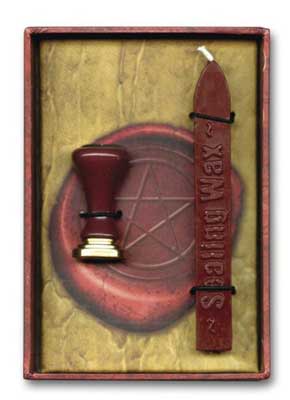 Magic sealing wax Box Kit
Customize invitations, greeting cards, and more with enchanting wax stamps.
Each Boxed kit (3 1/8 x 4 1/2) includes natural wax and a metal seal.
$17 ea





Sealing Wax Refill 3pk
A refill set of three sealing wax refill sticks. One each color: Green, Red & Lavender. Each sealing wax stick contains a cotton wick which eliminates the need for a separate heat source.
10$ ea



Spiritual Sealing wax kit
The Spiritual Sealing Wax Boxed kit includes 3 natural wax sticks, wooden handle, and three brass screw on seals: Sun, triple moon, celtic knot.
$30 ea.